| | | | | |
| --- | --- | --- | --- | --- |
| [ | Current Mood | | | content | ] |
Helloo! Gong xi fa cai!
Day 1 of chinese new year I got scolded by my mummy for putting my clothes in the wrong pail. LOL! Really happy new year! She said she told me to put in the right pail already. Ya. She told me when I was in my lalaland. How can I remember? hah! But she stopped scolding after like 5 minutes. hah. Oh ya, had a hard time waking up at 9plus am this morning. Cuz I shou ye until 4am plus yesterday. I think my parents can live up to hundred over years old already. haha!

Washed up. &left for ah ma's house at teban garden. Nothing much there. I think we went there for the sake of ah ma. That's all. Abit like no purpose eh. Okay lah, go there collect ang paos, eat cny goodies, watched ch8. Left after 1 hour plus. The bus took damn long to come. In the end, dad flagged for a cabs. &off we go to my da yi's house@ bukit panjang. Caught the repeat telecast of ch8 cny countdown variety show. After watching, I fell asleep on the sofa. Was really dead beat. 5 hours of sleep. You think enough ah? LOL! But it was a short nap. Cuz of the nap. I missed the lunch. But not really keen in eating also. Cuz the most I will eat rice with soup. That's all. After awhile I was quite hungry. So I started binging on some cny goodies. hah.

Later went up 7th storey to sixth uncle's house. There we started taking peekchurressss &my aunties had karaoke sessions. The young ones are playing ball games. Played block catching with my cousins too. First round, wore my black high heels to play. Stupid idea. Second round, took a random slippers to play. But I was K.O at the second round. Running up &down is really very tiring please. &then the pressure of when my cousin the catcher will suddenly appear "magically". ha!

After that the young ones, went to 16th(da yi's house) &23rd(sixth uncle's house) like at an interval of 15mins. While I used the comp to play facebook. Hehehe! Later I went down to 16th floor to read mag.
I find my little cousins very cute. Cuz they changed out from their cheongsam outfits, as it was really warm. Somemore they ran up &down. So my da yi told them if you all never go change, later don't bring them go bai nian. Then the lao er shoot back, you also not wearing nice nice what. (At that time, my da yi was wearing a tee &trackpants) LOL!

After reading, went up to 23rd floor to just sit around. Ha! Around evening walked across the road to my forth aunt's house to have dinner. &the whole lot of us watched "Xiao Niang Re Da Tuan Yuan". I watched until, I feel asleep again. Just as I have the energy to play with cousins, who were playing outside the house. It was time to go 8 level down to my mum's cousin's house. I don't know how to address her. hah. My elder cousin show me card magic trick. Eh, actually not really magic lo. Haha! &one of my little cousin suddenly very pervert. He wants to use the magnifying glass to see my elder cousins' (guys)..aye..nipples(?) hahaha!

Some of my mum's cousins don't recognise me. Hah! I think they were thinking how come a stranger came inside to this house for nothing. So they will ask me, who's your mum. I will point to my mummy. Then they will face my mum &go "oohh.. your daughter change alot leh" (in hokkien/chinese). Hah!

Caught that Fann Wong's movie, Da Xi Shi with my family &relatives @ 10pm. The storyline is normal. So-so ah. LOL! My dad watch until he fell asleep. Haha!

Super boring. Tmr I think I'll be collecting zero ang pao. Cuz if you read my previous previous post, this year won't be going to my da gu's house. But can like change the location right. Gosh. Dumb. It feels weird not doing the same thing on 2nd day of cny. Sighhhhhh. Really weird. I don't feel okay being coop up at home during 2nd day of cny.

On a brighter note, watching movie with Julien, Sivien, Ah Toon etc. in the evening tomorrow! But but but, I really wish there's house for me to visit tomorrow.

Anyway pictures here!

Yesterday:



Today: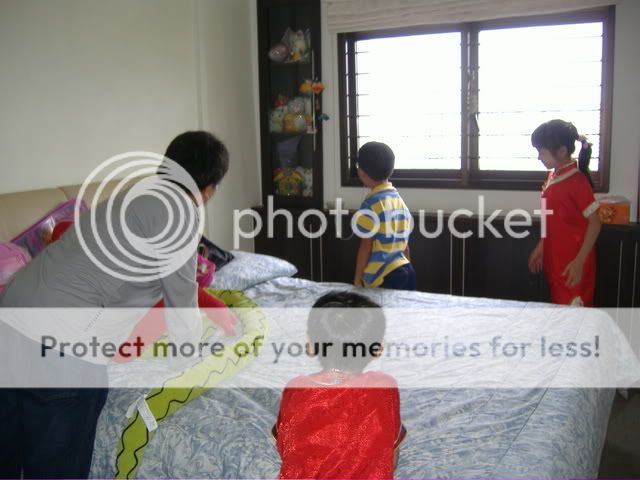 One Two Three



Four Five Six



Seven Eight Nine.
LOL! I know a bit vain ah. hahaha



The perv! Hahaha!